NEW FROM AGXGOLF THE MAGNUM MEN'S RIGHT or LEFT HAND 7075 FORGED DRIVER: FREE MATCHING HEAD COVER!! ++ BUILT IN THE U.S.A.!!
AVAILABLE IN MEN'S CADET, REGULAR OR TALL LENGTH
BAM!!! THE SAME COMPANY THAT BRINGS YOU THE TOUR EAGLE and BALLISTA GOLF CLUBS HAS DESIGNED THE MAGNUM 460cc DRIVER..!
Yes these are BRAND NEW still in the factory wrap!
The Manufacturer's Suggested Retail Price for this item is $99.95..... YOUR PRICE IS MUCH BETTER!!
Includes One year Manufacturers WARRANTY!!
BUILT IN THE U.S.A.!
ONLY $4.50 SHIPPING COST TO ANYWHERE IN THE U.S.A....... WE SHIP MOST ORDERS WITHIN 24 HOURS.
The "MAGNUM" GRAPHITE shaft DRIVER is a great way to go if you are trying to get DISTANCE with MORE ACCURACY!
It's also a great way to go if you want to up-grade to the latest technology from an older style driver.
What makes the HEAD DESIGN so effective is the Physics behind it: Having the weight distributed farther behind the club head increases the moment of inertia; (HIGH "MOI") this reduces the torsional rotation of the club head. Simply put: the club head is more likely to come through the ball "square" and that means more straight shots and less hooks and slices!!
FEATURES INCLUDE:
460cc OVER SIZED FORGED HEAD for Larger "SWEET SPOT and extra DURABILITY!!
EXTRA DISTANCE SERIES (HI MODULUS / LOW TORQUE) PREMIUM GRAPHITE SHAFT FOR MAXIMIM DISTANCE!
OPTIMIZED FLEX POINT; Increases DISTANCE with HIGH STRENGTH Carbon Fiber "ADVANCED COMPOSITE TECHNOLOGY
10.5 DEGREE LOFT with Slight Offset.
FREE MATCHING HEAD COVER
One year Manufacturers WARRANTY
As always we have had excellent feedback with AGXGOLF Golf Clubs.
SO DO IT!! GO LONG & GO STRAIGHT!!
AGXGOLF: These sets are built in Highland Michigan facility! We know you you enjoy playing these fine golf clubs as much as we enjoy crafting them! We GUARANTEE that you will be SATISFIED!!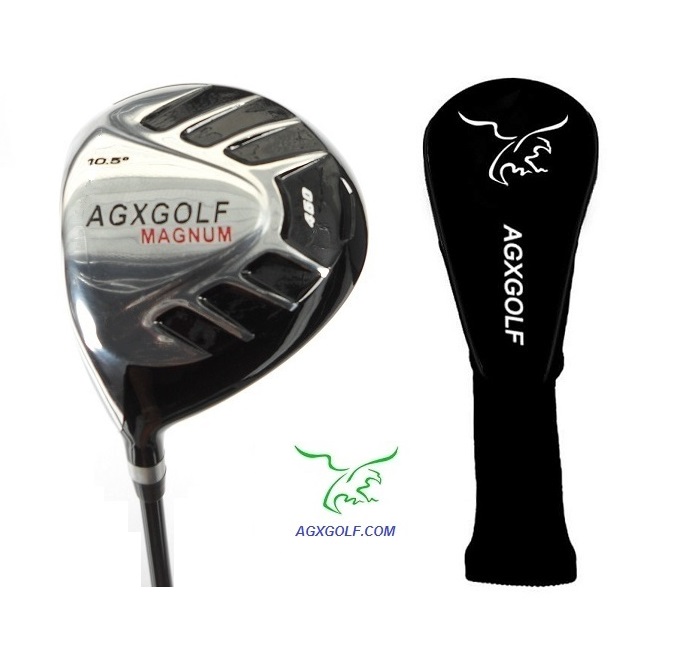 AGXGOLF MEN'S MAGNUM EDITION LEFT or RIGHT HAND 460cc DRIVER: FORGED 7075 HEAD w/GRAPHITE SHAFT + HEAD COVER
Product Code: mag_dr
Reward Points: 50
Availability: In Stock
$59.95

Price in reward points: 1000
Tags: MENS, RIGHT, LEFT, DRIVER, CADET, REGULAR, TALL, EXTRA TALL, INNOVATION, AFFINITY, ORLIMAR