AGXGOLF MAGNUM SERIES: BOY'S RIGHT HANDED **BUILT RIGHT HERE N THE U.S.A. FULL IRONS SET: INCLUDES #3 HYBRID w CALLAWAY X-TOUR STYLE 5 THROUGH PITCHING WEDGE IRONS + BONUS SAND WEDGE w/BOY'S FLEX STAINLESS STEEL SHAFTS..(OPTION TO UPGRADE TO GRAPHITE SHAFTS).
***NOTE: THIS LISTING IS FOR THE IRONS SET ONLY BAG NOT INCLUDED **
Yes, this is a BRAND NEW set still in the factory box!
BAM!!! THE SAME COMPANY THAT BRINGS YOU THE TOUR EAGLE GOLF CLUBS HAS DESIGNED THE MAGNUM EDITION IRONS FOR BOY'S..!
The Manufacturer's Suggested Retail Price for this set is $229.95; Your price is MUCH BETTER!!
WE SHIP MOST ORDERS WITHIN 24 BUSINESS HOURS!!..YES WE ACCEPT PAYPAL.!!
This FULL set of IRONS for BOY'S from AGXGOLF is an ADVANCED full technology package!!
DISTANCE Down the FAIRWAY! That's what you can expect from the MAGNUM HYBRID IRON: This club head design technology, plus the SUPERIOR SHAFT TECHNOLOGY produces a club with awesome swing speed and distance.
The masterfully crafted Irons are real SHOT MAKERS!
The OVERSIZE heads with the Cavity Back & Perimeter weighted club head design (INSPIRED by the popular CALLAWAY X-TOUR IRONS) makes it much easier to hit a nice HIGH STRAIGHT shot while still allowing you to work or shape your shots!!
What makes the PERIMETER WEIGHTING so effective is the Physics behind it: Having the weight distributed to the perimeter of club head increases the moment of inertia; this reduces the torsional rotation of the club head. Simply put: the club head is more likely to come through the ball square" and that means more straight shots and less hooks and slices!!!
Sharp design with technology for season after season of excellent golf, you won't have any problem flashing these superb irons!!
We know that many companies sell cut down Men's Irons as Boy's Clubs. These Magnum Iron's for Boys are built from scratch to fit a Boy's Swing Profile for Flex and Feel. The fact is, Boy's have not reached Adult strength so you cannot expect optimum performance from adult clubs.
Set contains (Total of 8 clubs):
3 HYBRID UTILITY IRON: combine the power of a wood with the accuracy of an iron.
5, 6, 7, 8 & 9 IRONS: Stainless Steel heads, Cavity Back - Perimeter Weighted and OVER SIZED for maximum forgiveness and accuracy. The Low Gravity construction provides tremendous power and loft.
PITCHING WEDGE + BONUS SAND WEDGE: To optimize your Short Game around the Greens
APOLLO USA BOYS FLEX STAINLESS STEEL shafts on ALL IRONS
One year Manufacturers WARRANTY
AGXGOLF is headquartered in Michigan and they've been around for a long time (even longer than we have)! We've been playing their Golf Clubs since we were kids and have been nothing but satisfied and we GUARANTEE that you will be too!!
SIZE RECOMMENDATIONS: THIS LISTING IS FOR A BOY'S RIGHT HAND IRONS SET
BOY'S TWEEN: For HEIGHTS of 4' 8" to 5' 3''
BOY'S TEEN: For HEIGHTS of 5' 2'' to 5' 8''
BOY'S TALL: For HEIGHTS of 5' 7'' to 6' 1''

So if you are looking for quality set of Over-Sized Irons for Boy's, but not an OVER-SIZED price tag, then we think you will be very happy with this set!!

Stated Shipping charge for contiguous U.S.A. only. Other destinations: PLEASE CONTACT US; Shipping will be billed at our actual shipping cost.
GOT QUESTIONS? CALL US AT: 248-685-9542
AMERICAN GOLF EXCHANGE is headquartered in Highland Michigan! We know you you enjoy playing these fine golf clubs as much as we enjoy crafting them! And we GUARANTEE that you will be SATISFIED!!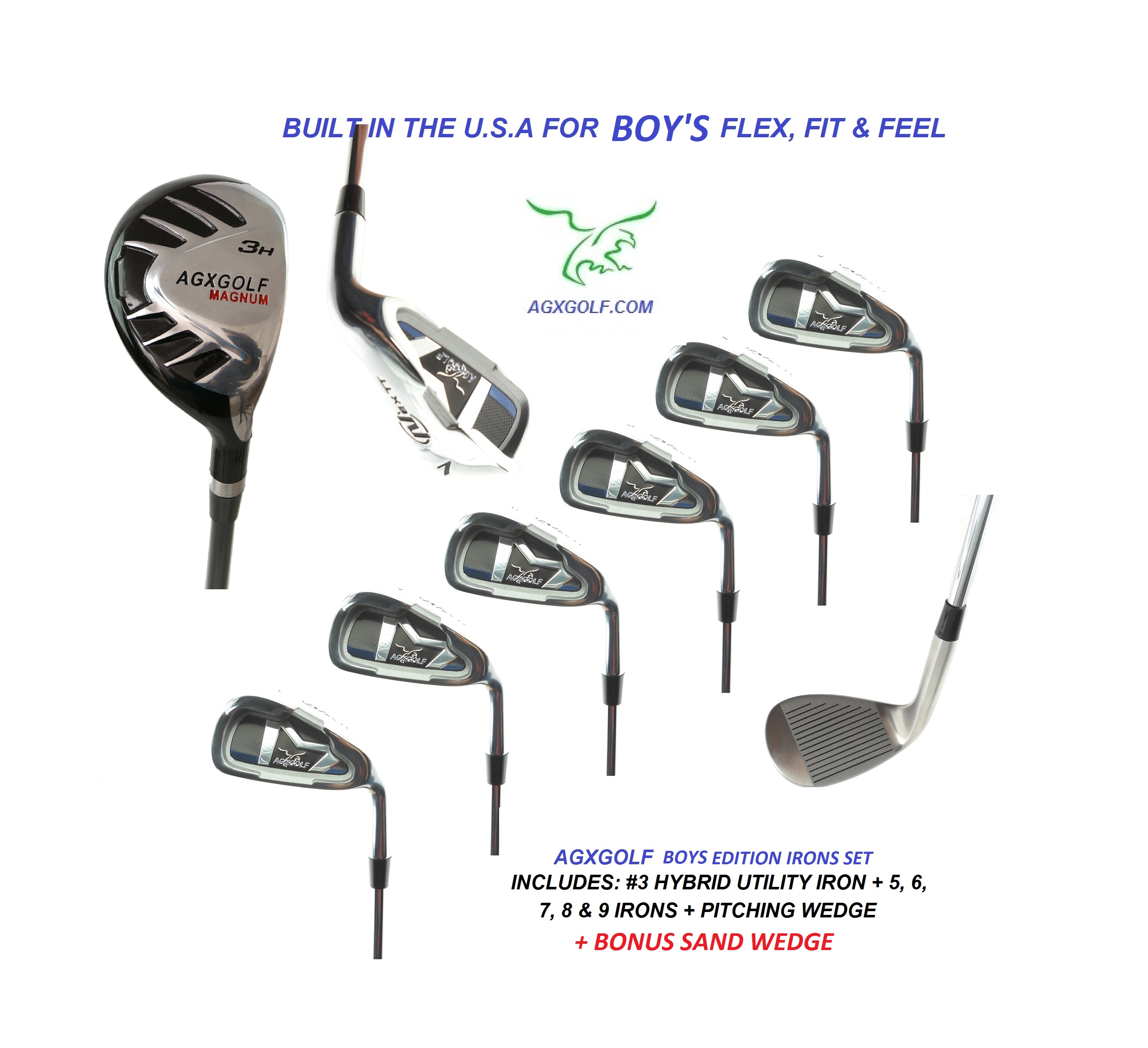 AGXGOLF BOY'S MAGNUM SERIES IRON SET: w/ 3 HYBRID+5, 6, 7, 8 & 9 IRONS + PW + BONUS SAND WEDGE: ALL SIZES
Product Code: ir-magz-brh-1x7
Reward Points: 144
Availability: In Stock
$139.95

Price in reward points: 2880