AGXGOLF "TOUR TECH" CUSTOM BOY'S EDITION GOLF CLUB SET WITH STAND BAG: RIGHT HAND; CUSTOM BUILT FOR BOY'S; FEATURING SPECIAL EDITION LEADERBOARD CG BALANCED IRONS) BONUS UTILITY WOOD & SAND WEDGE & FREE PUTTER + HEAD COVERS FOR THE DRIVER & 3 WOOD!!
AVAILABLE IN BOY'S RIGHT HAND TEEN, TWEEN or TALL TEEN LENGTH
These golf clubs are BUILT IN THE U.S.A.!!....top to bottom; to fit a TEEN'S swing profile for Fit, Flex and Feel! ONE LOOK AT OUR FEEDBACK WILL SHOW THAT WE BUILD QUALITY …. Yes this is a BRAND NEW SET!
The Manufacturer's Suggested Retail Price for this item is $249.95 ...Your price is MUCH BETTER!!
YES! ALL YOU NEED TO DO NOW IS SHOW UP AT THE FIRST TEE!! ..Sets include One year Manufacturers WARRANTY!!

This set of golf clubs from AGXGOLF features the OVER SIZE TECH PLUS DRIVER and 3 WOOD + BONUS UTILITY with low center of gravity sole.
The Cavity Back TOUR LEADERBOARD CG BALANCED Irons are "Over Sized" and feature perimeter weighting to help get your full power behind the ball, yet weighted properly for a teens swing profile. The featured special edition Optimized Sole Irons put the energy behind the ball yielding better action for height and Distance!!
Skillfully designed with the latest technology; the TOUR TECH BOY'S CUSTOM EDITION GOLF CLUB SET features BOY'S FLEX STEEL SHAFT IRONS and GRAPHITE SHAFT WOODS.
The masterfully crafted BOY'S CUSTOM EDITION IRONS are real "shot savers"!
The Oversize 4-13 Stainless heads with the Cavity Back, Perimeter weighted club head design (gosh! much like the "Callaway Series") makes it much easier to hit a nice HIGH STRAIGHT shot while still allowing you to "work" or "shape" your shots!!
A SHARP DESIGN with technology for season after season of excellent performance, your golfer will appreciate the feel and Modern Tour styling of these suburb sets!!
These sets are intended to help higher handicap beginners progress to medium and lower handicap golfers, Beginners will find that these clubs are easy to learn with!
"Pride of Ownership" The AGXGOLF BOY'S CUSTOM EDITION sets are great for Beginners and Intermediate golfers. The oversize clubs are great confidence builders by providing excellent forgiveness on miss-hit shots.
Quality and affordability also make these clubs a great value!
It's the smart way to go, whether it's a first set or an upgrade from a "mix & match" or an older set.
Set contains: (Total of 9 clubs)
DRIVER: w460cc 10.5 DEGREE Over-sized head for HEIGHT and MAXIMUM DISTANCE DISTANCE with large "sweet spot"

3 WOOD: Make those TEE shots when accuracy is at a premium and for long Fairway shots.

BONUS UTILITY WOOD: Perfect off the Tee and perfect off the Fairway for long approach shots

3, 5, 7 & 9 Irons; (CALLAWAY STYLE) Cavity back and Over sized for maximum forgiveness and accuracy

SAND WEDGE: To optimize your short game!

HIGH PERFORMANCE BOY'S INTERMEDIATE FLEX GRAPHITE SHAFTS on DRIVER & 3 WOOD

BOY'S FLEX STAINLESS STEEL SHAFTS; on all IRONS, UTILITY WOOD & PUTTER for optimum accuracy.

FREE PUTTER

HEAD COVERS FOR THE DRIVER & 3 WOOD!!

One year Manufacturers WARRANTY

OPTIONAL STAND BAG FEATURES:

Very light weight but Durable construction

Graphite-safe, 6-way top.

Padded side and handle for easy carrying

Durable DUAL HARNESS design with padded strap for optimal weight distribution

Ball pocket and Utility pocket

Large garment pocket

Towel ring with Velcro glove holder

Rugged stand mechanism

Adjustable Umbrella holder

Bottom handle for Easy loading and unloading

RAIN COVER

COLOR: BLACK & WHITE
HERE ARE OUR SIZE RECOMMENDATIONS:
BOY'S (TWEEN): For HEIGHTS of 4' 8" to 5' 3"
BOY'S: (TEEN) For HEIGHTS of 5' 2" to 5' 7"
BOY'S: (TALL TEEN) For HEIGHTS of 5' 6" to 6' 1"
These sets are custom built in our Highland, Michigan facility AND YOU CAN SEE FROM OUR FEEDBACK THAT WE BUILD QUALITY!! These sets are Built from scratch...top to bottom; to fit a Boy's golf swing profile for Size, Flex and Feel! Don't be fooled by retailers who want to sell cheaper Men's sets that are simply "cut down"!! We believe your golfer will enjoy playing these fine sets as much as we enjoyed crafting them!!
GOT QUESTIONS? CALL US AT: 248-685-9542
Stated Shipping charge for contiguous U.S.A. only. Other destinations: PLEASE CONTACT US; Shipping will be billed at our actual shipping cost.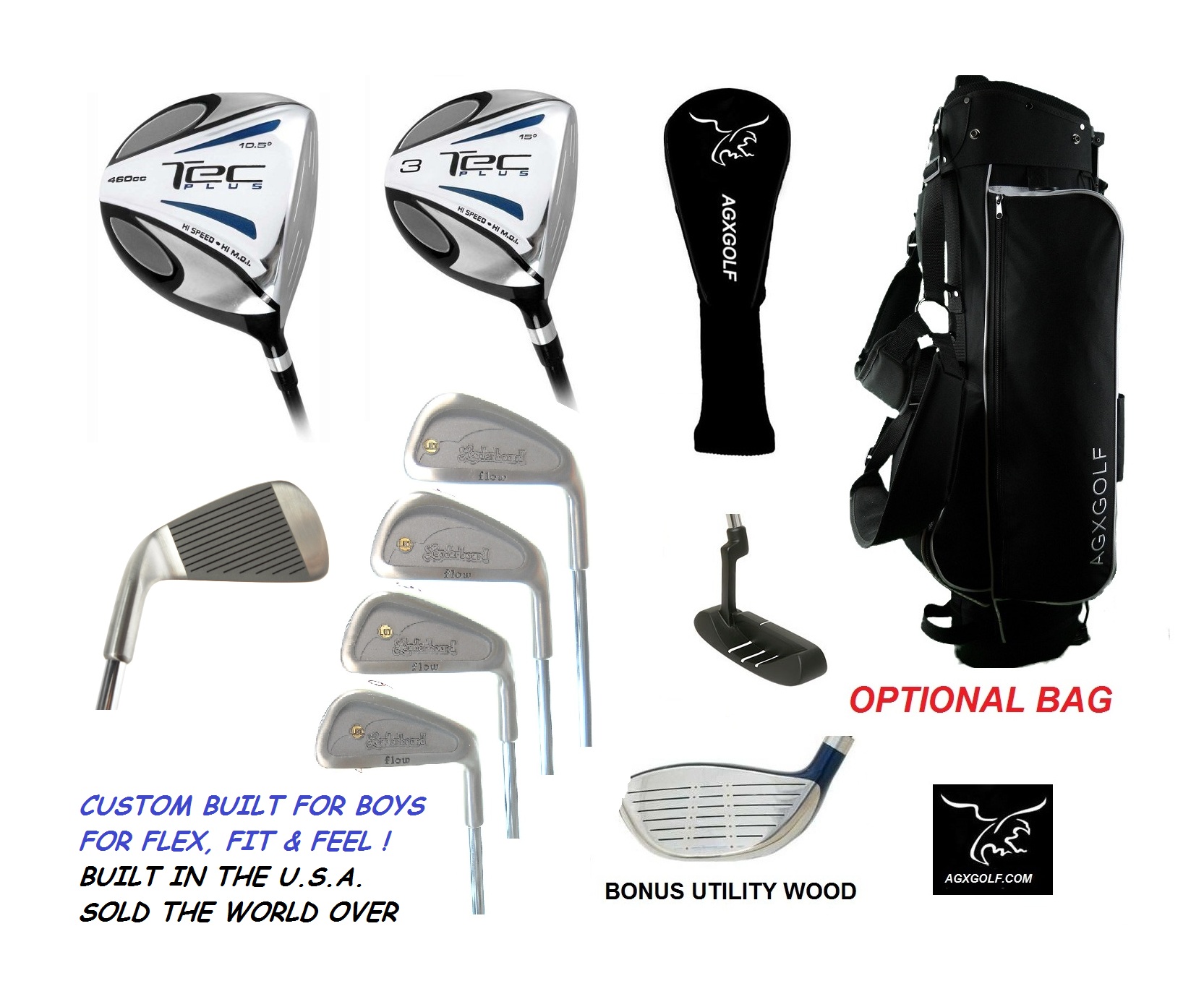 AGXGOLF "TOUR TECH" CUSTOM BOY'S EDITION GOLF CLUB SET: BONUS UTILITY WOOD & SW; OPTIONAL STAND BAG & FREE PUTTER & HEAD COVERS
Product Code: tplusspecbys
Reward Points: 140
Availability: In Stock
$129.95

Price in reward points: 2800