Featured
AGXGOLF and ORLIMAR; "GIRL'S AVT PINK (JUST RIGHT)": GIRL'S STARTER SET (GRAPHITE SHAFT DRIVER & 3 WOOD) with BAG, PUTTER and HEAD COVERS FOR THE DRIVER AND 3 WOOD; CALLAWAY "HAWKEYE' STYLE IRONS!
DELUXE 11 PIECE PACKAGE; GIRL'S RIGHT HAND. AVAILABLE IN ALL SIZES

BAM!!! THE SAME COMPANY THAT BRINGS THE ORLIMAR GOLF CLUBS TO THE LPGA PRO'S HAS DESIGNED THE "AVT GIRL'S EDITION" FOR US..!
..A SPONSOR OF BREAST CANCER RESEARCH!
| | | |
| --- | --- | --- |
| Received item quickly! Thank You very much! she loves the clubs! A++ Seller! | Buyer: | Jun-12-13 |
Yes this is a BRAND NEW set still in the factory box!
Sets include One year Manufacturers WARRANTY!!
This set of golf clubs from AGXGOLF features A LARGE OVER SIZED 460cc TITANIUM MATRIX DRIVER with a 12.5 degree loft to make it easy to get nice height on your drives The Oversize head creates a 30% larger "sweet spot" and up to an extra 30 yards on every drive!
The FAIRWAY Wood features the "Low Profile" style of design with a low center of gravity to help you get nice LOFTED shots even off tight fairways and also out of the rough !!!
The GIRL'S SPECTRA SPECIAL EDITION IRONS are DUAL PERIMETER and SOLE WEIGHTED. Cavity Back and "OVER SIZED" these Irons are "Inspired" by the Callaway Hawkeye style of design to help square the club up at impact for straighter more accurate shots and more "FORGIVENESS" on those miss-hit shots!
The special "COPPER INSERT SOLE WEIGHTING at the "SWEET SPOT" produces a lower center of gravity that results in high "TOUR" style shots that land the ball softly on the green!!
You will certainly admire the "TOUR" appearance, quality and extra Durability of these mirror finish Irons.
The "AVT" PUTTER features "heel and toe" balancing and a Precision face with a contoured grip for smoother, straighter precision strokes.
All in all, a very Elegant set of golf clubs!!
These sets were Tastefully designed with the YOUNG LADY golfer in mind and with the latest technology.
This set was built with our girls "Lite Flex' shaft to match a young ladies swing tempo...
p.s. The Graphite shaft Driver has really given my Tee shots the extra length that I needed.

GIRL'S STAND BAG:
Very light but Durable construction
Bag STAND: Automatically activates as soon as bag is set down!
Graphite-safe, 5 way top
DUAL STRAP harness design with padded straps for optimal weight distribution
Padded side and handle for comfortable easy carrying
Ball Pocket
Large garment pocket with Saddle Pockets
Towel ring
Adjustable Umbrella holder
Rain Hood
Bottom handle for Easy loading and unloading
COLOR: PINK & GREY + MATCHING HEAD COVERS for the DRIVER and FAIRWAY WOOD
Designed and inspired by the latest technology the "AVT GIRL'S EDITION" is a great set for the intermediate golfer as well as beginners. The oversize clubs are great confidence builders by providing excellent forgiveness on miss-hit shots.
Quality and affordability also make these clubs a great value!
We have excellent feedback for these sets.
Set contains (Total of 8 clubs):
DRIVER: 460cc Over sized FORGED 7075 SQUARE HEAD for MAXIMUM DISTANCE and larger "SWEET SPOT"
Large face Profile 3 FAIRWAY WOOD: Easy to hit off the Tee or a long way down the Fairway
#3 LONG IRON; #5 MID IRON + #7 & 9 SHORT IRONS; Cavity back, perimeter weighted and Over sized for maximum forgiveness and accuracy
BONUS FREE SAND WEDGE: DURABLE STEEL with CHROMED FINISH with GROOVED FACE to put EXTRA BACK SPIN on the ball; Cavity back, perimeter weighted and Over sized for maximum forgiveness and accuracy
FREE PUTTER. These are an excellent design; the Flange style head features a precision face with "Heel-Toe" weighting to help keep the Putter head on line for more accurate Putts. Also important to note is the contoured grip that allows for a relaxed posture. This is important because a relaxed grip and posture means more consistent Putting and lower scores!!
HIGH MODULUS PREMIUM (Pink & Gray) GIRL'S FLEX GRAPHITE SHAFTS on the DRIVER PLUS and 3 WOOD

GIRL'S FLEX

STAINLESS STEEL SHAFTS ON ALL IRONS, WEDGE AND PUTTER
One year Manufacturers WARRANTY
AGXGOLF is headquartered in Michigan We hope you enjoy playing these fine sets as much as we enjoyed crafting them
THIS LISTING IS FOR A GIRL'S RIGHT HAND SET! NOT SURE OF YOUR SIZE?
HERE ARE OUR SIZE RECOMMENDATIONS:
GIRL'S TWEEN: For HEIGHTS of 4' 8'' to 5' 3 ''
GIRL'S TEEN: For HEIGHTS of 5' 2'' to 5' 7''
GIRL'S TALL: For HEIGHTS of 5' 6'' to 6' 1''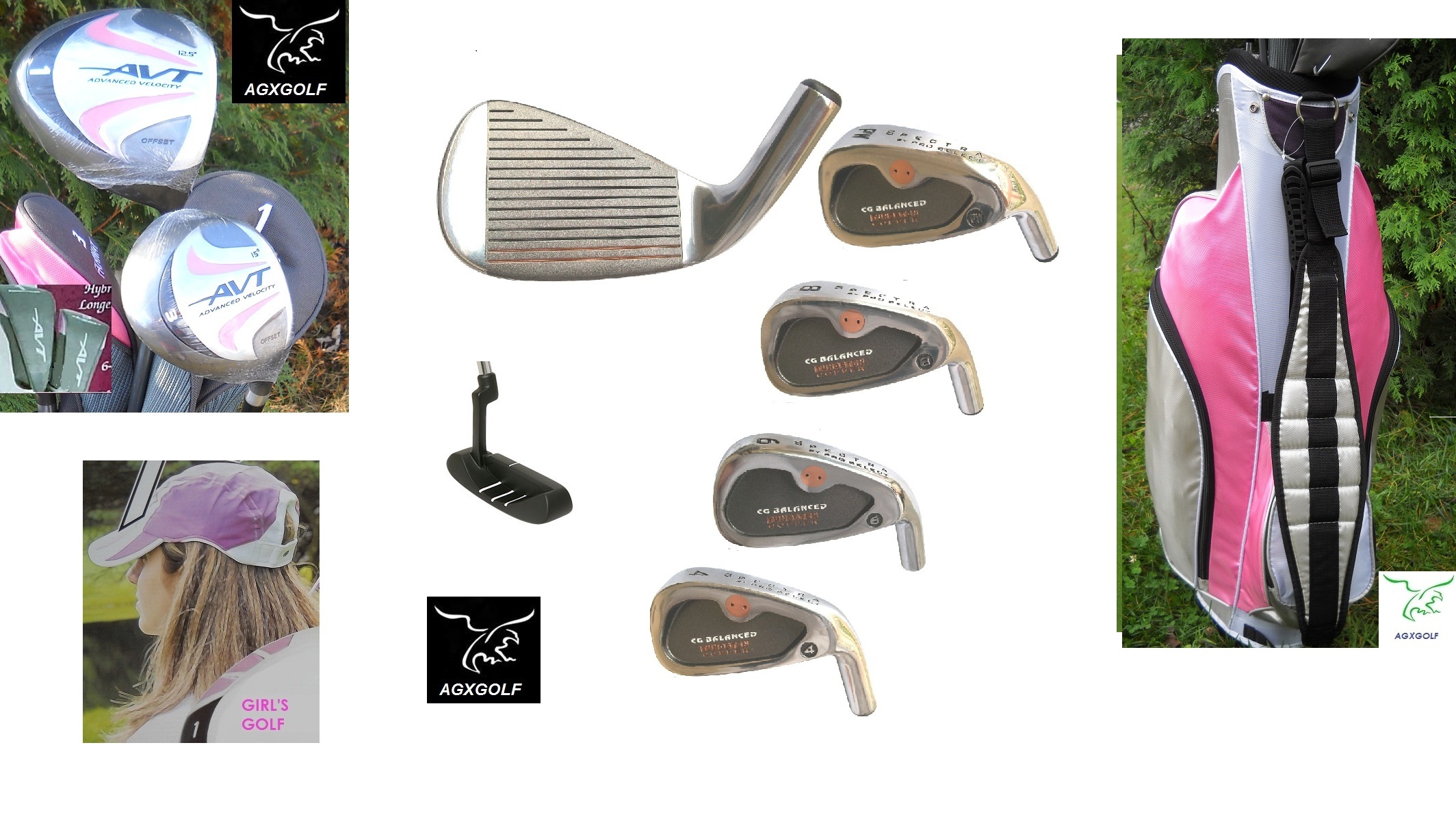 AGXGOLF GIRL'S EDITION AVT PINK GOLF CLUB SET w/STAND BAG & FREE PUTTER: TWEEN, TEEN & TALL SIZES
Product Code: avt_pkgrl_stbg
Reward Points: 138
Availability: In Stock
$159.95

$149.95

Price in reward points: 2760
Tags: GIRLS, AVT, RIGHT, TWEEN, TEEN, TALL, COMBO, PINK, PURPLE